GSOC 2021: Chord Symbol Style Editor - Week 4
Hello everyone. I hope all is well.
It has been 1 month since I started the project and it has been a great experience so far. I was able to complete the main features of the Chord Symbol Style Editor. So, I thought I would summarise everything I have done so far in this week's blog. I have also included some short video demos for you all to see.
Inspector Pop-up:
When a chord symbol is selected, the chord symbol settings button appears in the inspector. In this pop-up, the different styles are displayed. There is no need to manually load the XML file. The XML file just has to be copied into the Styles folder of MuseScore and it will appear on the inspector pop-up. This pop-up makes switching between styles very easy. Take a look: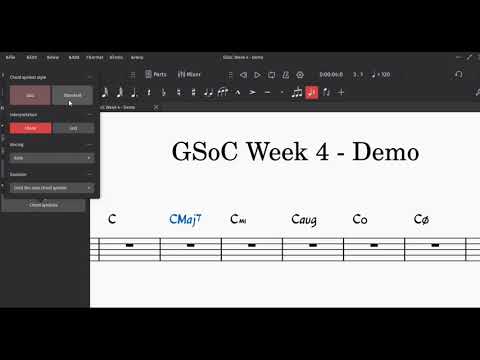 Chord Symbol Style Editor:
The new editor will replace the existing "Chord Symbols" settings in the Styles dialog. The editor contains two tabs: Basic and Advanced. Basic settings include the quality symbols and chord spelling settings. Advanced settings include settings like offset, scaling, etc... The editor UI is a bit unfinished at this point.
1. Quality Symbols Respelling:
The editor offers different symbols for each quality. When a chord symbol is entered in the score, the program respells the chord to the selected symbol. This is how it works: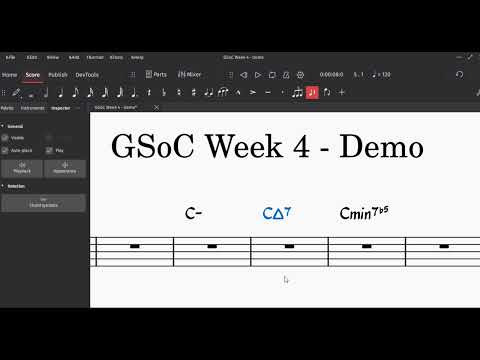 On the left is the editor inside the styles dialog. On the right, I have some sample chords, which change according to the quality symbol selected.
2. Quality Symbols Adjustments:
There already exist offset and scaling options for modifiers and extensions. This editor additionally offers the two options for quality symbols too.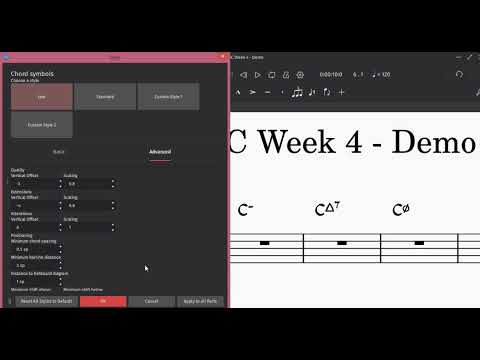 For next week:
In the next week, I am going to work mainly on the stacking of modifiers and if time permits, also on the other features in the Advanced tab. Modifiers are very tricky. There is a lot of variation. So, it is going to take a lot of work to get the stacking right.
That is it for this blog.
To know more as the project goes on, you can visit:
The draft Pull Request - https://github.com/musescore/MuseScore/pull/8345
My blog on MuseScore - https://musescore.org/en/user/3092631/blog
Thank you for reading the blog. Bye!